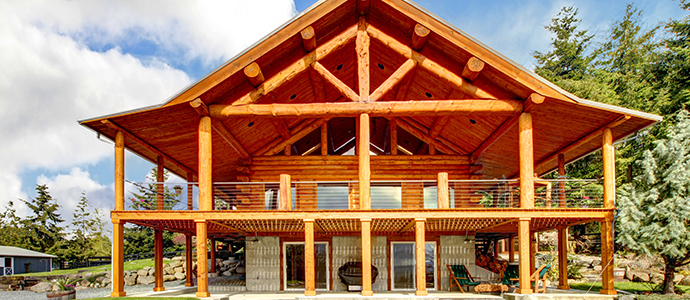 Log Packages Options
Total System Approach:
Log Homes of the South believes in the total system approach to log home building because it is the best way to ensure the highest quality results. Having all framing and trim lumber shipped as a package ensures that everything needed for construction will be available and that all of these materials have been subjected to the same high standards of quality control.
Our Packages:
Log Homes of the South provides a wide variety of product options, which currently consist of nine different log systems, in as many as four different log species; three different types of exterior windows and doors; uncut or pre-cut rafter and beam systems, each available in two different types of material; and two different types of dry-in packages with many options.
Handcrafted Building System:
Consider upgrading your log home with the Log Homes of the South Handcrafted Building System.&nbspthesepremium, handcrafted homes, each log is individually measured, scribed, peeled, cut and shaped by the hands of artisans using time-tested techniques. Select timbers from the Pacific Northwest are chosen for their renowned strength beauty as well as for the ease with which they can be shaped by hand tools.
STANDARD LOG AND TIMBER PACKAGE
8" Pine Log Package
2×4 frame gables and dormers with 7/16″ OSB and exterior log siding, wavy edge siding or board and batten (per plans)
Porch Posts with settling jacks – some round, some square, some natural
Wood windows and exterior doors
Heavy timber Uncut rafter system – 32″ OC HT rafters
Sandwich Roof System – 1" T&G first roof sheathing, Roofunderlayment, Rigid Insulation to equal an R-38 roof system, furring strips, 5/8″ OSB and roof underlayment
1x & 2x fascia, 2x rafter plate, 2x rafter blocking
Heavy Timber Uncut upper beam system
2″ T&G loft sheathing
Heavy Timber Uncut porch rafter system – 48″ OC
Porch Roof System – 2″ T&G roof sheathing and roof underlayment
Sub-floor system – framing and sheathing
Porch/Deck floor system – support posts, framing and sheathing
Exterior trim & drip cap and sub-floor trim
PREMIUM LOG AND TIMBER PACKAGE:
+ all of the items in the standard package plus
All material included in Standard Total Package PLUS
Interior stud partitions
Interior doors
Interior sculptured trim and baseboard
Interior stairs and 2x railing
Exterior rustic round railing
1″ Interior T&G wall sheathing
Unfinished pine flooring for

first floor
Log Profiles:
Round Log 8″, 9″, 10″ and 12″
Offers the beauty of the round log profile inside as well as outside. All log sizes are offered in Yellow Pine, White Pine and Hemlock except for the 10″ and 12″ log. The 10″ and 12″ log is offered in White Pine only. The 8″ log is also offered in Cypress. All logs are offered with a smooth or a draw knife finish. In addition, the 9″ and 10″ logs are offered with hand hewing.

D Log System
Round outside/flat inside, offers a more conventional (flat face) interior design. We offer the D log in an 8″, 9″ or 10″ log. These logs are offered in Yellow Pine, White Pine and Hemlock. The 8″ log is also offered in Cypress. The logs can be smooth or draw knife finished. As shown to the left, we provide these logs with saddle notch corners or dove tailedcorners as shown in our square log profile below.

Square Log Systems
Appalachian dove-tail system with planed, machine-hewn and hand-hewn options, plus rustic, V-groove or chink-groove finishes. We offer the square log systems in 6″x12″, 8″x12″ or 10″x12″ logs. The 6″ x 12″ logs are offered in Yellow Pine, White Pine, and Western Red Cedar. The 8″ x 12″ and the 10″x12″ logs are offered in Yellow Pine and White Pine.

Conventional Half Log System
The Half Log System is becoming a very popular choice when it comes to a framed home with half log siding. This system is used when our customers would like the log home look with a super insulated home. It is also used to convert a frame home into a log-over-frame system with the profile available in all log systems. This method of log> covering is also very popular for dormers, garages, sunrooms and renovations.